Our Group Training Timetable
Booking are essential as we cap our sessions at 12 participants.
Every session is supervised and coached by one of our trainers, the ensure we can tailor the intensity and difficulty to suit every individual.
Existing Clients & Out of Area Visitors Book online HERE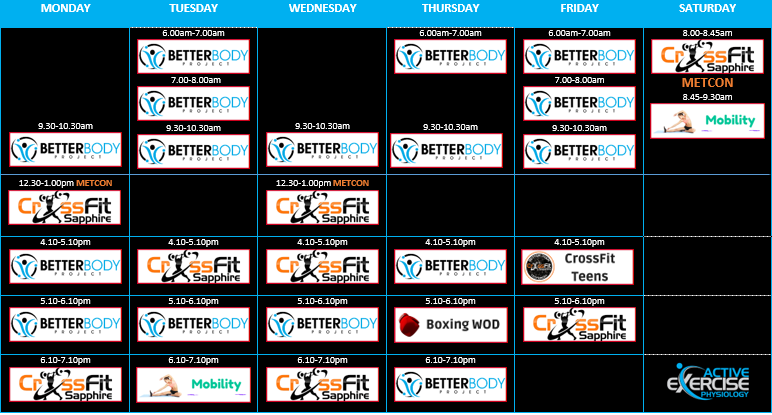 Our core group training program, Better Body Project sessions incorporate all the elements of fitness into one session. Every session incorporates strength, cardio conditioning, core and mobility and is fully supervised by a trainer.
We limit sessions to a max 12 clients in the gym so that the trainer can adjust, modify and correct your movements to suit you.
Better Body Project sessions run on a 5 week training block, with every session different from Monday to Friday. Our trainers develop the program ensuring balance of muscle groups and consistency of movement to get you optimum results.

We are the ONLY CrossFit affiliate on the Far South Coast!
CrossFit is the sport of fitness and was developed to improve an individuals competency at all physical tasks. Sessions incorporate cardiovascular fitness, strength, power, speed, stamina, coordination, agility, balance and accuracy. We use varied training methods such as Olympic lifting, weight lifting, gymnastics and mobility movements in a competitive but welcoming atmosphere. No session is ever the same!
CrossFit Sapphire welcomes participants from all levels of fitness. Our coaches will tailor each workout to a level suitable to each individual participant, to ensure your safety and success. Every workout can be scaled down in terms of difficulty and skill to suit the beginner, whilst still challenging the more advanced trainer.
* Saturday CrossFit Sapphire Metcon sessions - as these sessions are only 45mins, we remove the more technical movements from the programming and focus on conditioning workouts.
We also offer a CrossFit Kids, CrossFit Pre-Teens and CrossFit Teens program. For more information on our CrossFit Kids and Teens programs click here

Punch your way to fitness in our Boxing WOD sessions! Utilising basic boxing movements combined with high intensity cardio and strength exercises, you are sure to get you heart rate up and sweat on! We use freestanding boxing bags which means you will not have to hold any pads nor do you require a partner. We provided boxing gloves if you need them, but you will need to bring along some cotton inners if you are using our gloves (available for purchase at gym for $2.50).
Note: for those of you not up with fitness lingo, WOD means workout of the day.
Small Group Training Price List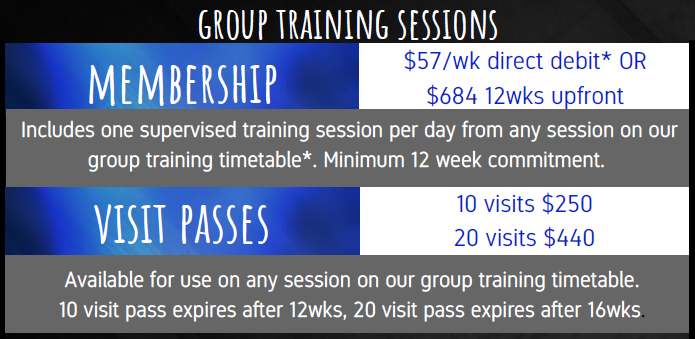 *Lunchtime Metcons are $12.50 Per Session